One of the main challenges faced when designing Root's logo was creating a logo that represented a vegan eatery properly. Root's previous logo looked great but the owners expressed concern that their logo (which centered around the icon of a vegetable) was a bit misleading and could suggest that Root was some sort of small veggie market and not a plant based eatery. Based on that observation both the client and Mediagraphyx agreed that their new logo should perhaps include a vegetable leaf and a table utensil.
Once the necessary information was gathered we began the brainstorming process of sketching ideas in Adobe Illustrator. Below are some of the ideas that were sent to the client for a first revision.
After careful consideration the client chose Sketch #4. They believed that the minimalist approach to the new logo would make it an easy one to incorporate in all of their branding assets. They invisioned the logo on t-shirts, letterheads as well as store banners and menus.
For the business card design we chose a dark grey background which provides great contrast against the white logo. For variation when flipping the card over we chose a white background. We used the website's official green color (#8eaa00) for the personal info.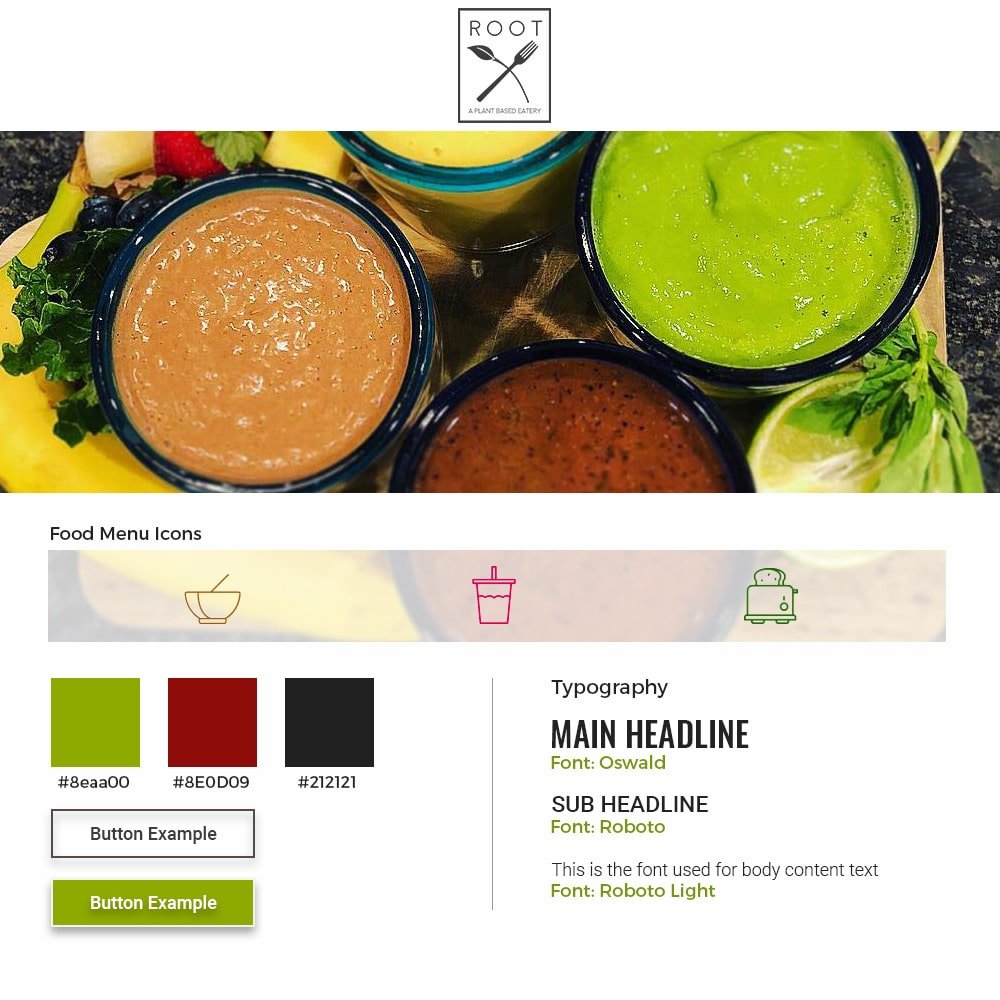 Root was interested in a new branding approach, so it was important for the website redesign to fit into their new look and feel. The color palette emphasizes healthy living and balance through healthy eating. Our last touch was to add some clean, modern typography and to accomplish this we used the font "Oswald" for the headline titles and "Roboto" for subheadlines and body text.
Root's new website incorporates a richer yet simpler interface for customers to navigate through as well as cleaner visuals and plenty of space which propels the brand and the customer's experience forward.
Through careful strategy and tactics Mediagraphyx was able to optimize Root's website and place it on top of the search engines including Google, where you can find Root ranked at #1 when searching for vegan food in Newport, RI.
When we embarked on the journey of hiring a design studio to put into art what we couldn't, we were somewhat skeptical and nervous. It is not easy to trust someone other than yourself to make decisions about the image of your business. Within a few minutes of our consultation session with Mediagraphyx we felt not only at ease but also quite excited and anxious to see what they would deliver. Upon delivery we realized that our expectations were not only met but Mediagraphyx had gone far and beyond anything we could have imagined. Thank you so much!